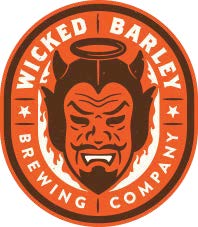 JACKSONVILLE – Wicked Barley has announced expanded distribution plans, partnering with Cavalier Distributing as their distributor beginning April 3. Cavalier will distribute draught versions of Wicked Barley's Left Lag Lager, The Eradicator DIPA, and seasonal/limited releases as available in the Florida counties of Duval, Clay, St. John's, Nassau, and Baker.
"We were looking for a partner whose total focus was on craft beer, and we certainly found that partner with Cavalier," says Brewmaster Philip Maple.
Wicked Barley Jacksonville Launch Events
Tuesday, April 4
V Pizza Mandarin/Tap Garden – 5 p.m.

Wednesday, April 5
Really Good Beer Stop – 5 p.m.
Thursday, April 6
Alewife Craft Beer Bottle Shop & Tasting Room – 6 p.m.
Friday, April 7
San Marco Brewery Launch Tour – 5 locations
Beer:30 San Marco – 5 p.m.
Bearded Pig – 6 p.m.
Kitchen on San Marco – 7 p.m.
Bold Bean Coffee Roasters Hendricks – 8 p.m.
Grape & Grain Exchange – 9 p.m.
For more details, visit cavbeer.com/events/.
About Wicked Barley
Award-winning Wicked Barley is a brewpub started by three friends Philip Maple, the brewmaster, Brett Baker, taproom manager, and Tobin Turney, brewery operations manager. Comprised of a 15-barrel brewhouse, Wicked Barley first opened its doors in July 2016 and started selling their own beer in October 2016. The facility includes a taproom and restaurant with gastropub fare created by Executive Chef Brad Sueflohn. In addition to the restaurant, the property boasts a large outdoor beer garden and a boat dock. Maple, Turney, and the rest of the Wicked Barley team have a strong devotion to clean pure water, and all brewhouse water is treated through a RO water filtration plant. Also a winery, Wicked's team brews meads and ciders, in addition to their beers.  Wicked Barley won two gold medals in the annual Best Florida Beer competition this year.